A 3 hour event! Saturday or Sunday afternoon, during our public session from 2:00 to 5:00 PM
Admission for 8 guests (including the Birthday Child)
Skate rentals (quad or inline) for party guests
Reserved table in our party area for 45 minutes
Pizza Slice for each guest
Two pitchers of drinks
Birthday Child receives 40 arcade game credits
Party Guests receive 20 arcade game credits
Party place settings
Party Invitations
A FREE PASS for each guest to return
Your own Party Host to serve & clean up
Free skating for the parents of the birthday child
A non-refundable deposit of $100.00 is required.
$149.00, $14.99 each additional guest*
You provide the cake!
Includes everything in the "Birthday Party", PLUS
The party is held in our Birthday Party room!

A non-refundable deposit of $100.00 is required.



$199.00, $14.99 each additional guest*
You provide the cake!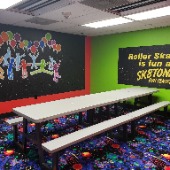 Your guest's will have Sk8tona all to themselves! Private Birthday Parties are for a 2 hour period
Prices are for up to 50 people (skating or not) TOTAL, including parents of guests.
Fee includes skate rentals (quad or inline), invitations, table settings, & your own party hostess to serve & clean up. We also give each guest a FREE PASS to return.
$400.00, $7.00 each addition guest
A non-refundable deposit of $200.00 is required.
You provide the cake!
Virtual Reality
Includes everything in the Birthday Party,

plus

Each guest plays a game of Virtual Reality
We have 5 games to choose from, which include great options for children!
Additional $6.00 per guest*
Glow Party
Includes everything in the Birthday Party,

plus

Glow cups, plates & utensils
Glow necklaces
Glow bracelets
Flashing light up rings
We use Glow soda pitchers

Additional $6.00 per guest*



Available Extras
Additional Game Credits
Additional Pizza
Additional Soda
Snowballs
Favor Bags
Skate Trainers (subject to availability)
CHECK OUT SOME OF OUR FREQUENTLY ASKED QUESTIONS. IF YOU HAVE MORE, PLEASE CONTACT US.
Q: What kind of food can I bring in?
A: We allow cake or cupcakes to be brought in when you have your party package reserved. Nothing else will be allowed in.

Q: Can I bring in a cake and just "do my own party" at a table?
A: We always require a party package reservation for a cake and presents to be brought in. We do not allow cake, presents, or other birthday items to be on any of the public tables in our facility. We appreciate your cooperation so all of our guests can enjoy their time with us.

Q: What form of payment can I pay with?
A: Cash or Credit Card payment only. We do not accept checks

Q: Are Skate Trainers included in the party package?
A: They are NOT included. Skate trainers are available on a first come, first serve basis for all of our customers. They are available for rent at the front counter at our Skate Shop

Q: Does the Birthday boy/girl count in my "guest count"?
A: YES! Our Birthday Parties are based on a minimum of 8 guests, which INCLUDE the Birthday Child. If you have less than 8 guests show up for your party you will be charged for the minimum (8). All kids in the party will receive a numbered wristband. All kids at the party table will be counted as a guest. Parents are the only guests who can watch for free if not skating. Seating is provided for paid party guests only. You will be required to fill out a "Guest List".
Q: What time can we start skating for our party?
A: Each party reservation has a skating session time, and a party table seating time. If your session is from 2:00 to 5:00 PM, and your party seating time is at 3:30:
Guests skate from 2:00 PM to 3:30,
Guests have use of the party table from 3:30 to 4:15,
Guests skate from 4:15 to 5:00 PM.

Q: Can I bring in outside decorations?
A: We provide a tablecloth & party settings (cups, plates, sporks, napkins - all skating theme). If you would prefer to use your own, you may... but please inform us prior to the party so we can make arrangements for you. There is no need to bring or purchase anything else since it comes with your package, except the cake. We do not allow for any hanging decorations confetti, glitter, or anything else that makes a mess.

Q: How long is my room/table time?
A: All Public Session party packages come with a 45 minute (max) reserved room/table time. We provide a Party Host (gratuity is not included, but always appreciated) to set up, assist during, and clean up, so you can enjoy all of your time. Due to parties booked before/after yours we are not able to extend party times. You are not required to stay at the table or in the room for the whole time. If your party guests finish with cake, etc. and want to skate, then you can vacate your table/room at that time if you wish. You must vacate the party area at the end of your party time so we can set up for the next party!

Q: Can I move all of my party stuff to another table after my party?
A: We are happy to hold your cake in storage for you. We do not allow any party items to be moved to a public snack bar table (cake, presents, etc) due to public space and fairness, so you will want to make sure to complete those things during your party time. Many parties choose to put some party items back in the their car for safe keeping as well.

Q: What if my guests are late and miss the party time?
A: If your guests arrive during your table/room time, we will get them in & they will join the party as a guest. If they arrive after you've paid your bill, and they wish to enter, we will charge them admission & skate rental if needed.. We cannot extend table/room time due to late arrivals.

Q: Do extra adults not skating have to pay just to come in?
A: We do not charge admission for spectator adults of party guests. They are welcome to come into the facility and watch for free. They can also be in the party area IF SPACE ALLOWS to watch. Extra adults, just watching, are not included in your "guest" count. You may wish to order extra pizza or pitchers of soda for them as well. We recommend ordering extra pizza in advance so you don't have to wait upon arrival to your room. If adults decide to skate they can pay their own admission and skate rental at the ticket window separately, or if you wish to pay for them please let us know so we can add them accordingly to your invoice.
We understand grandparents and others may wish to come in for your child's party. Our Party area is limited, and can only accommodate a limited number of spectators, which would include the guests parents. Please understand we do have to limit the amount to what can fit. If it's excessive we will have to ask them leave the area. Please consider this issue if you plan to invite other non skating adults to your child's party.

Q: Can I bring in Goody Bags?
A: You can bring your own Goody Bags. We suggest giving Goody Bags out at the end of your time with us to lessen the chance of things being lost. We do offer great goody bags for purchase!

Q: What if I want to add more pizza and soda?
A: We always ask for advance notice (if possible) for any extra pizzas you may order for guests. That way we can have them made and ready upon your party time. If you wait to order more, please allow 10-15 minutes for your hot pizzas to arrive. Extra pitchers of soda can be ordered prior or during your party time.

Q: What if I have more or less guests than my original count on the invoice?
A: Please let your party host know as soon as possible, so they can accommodate more place settings, and game cards. All kids will count as a guest and need a wristband. We bill you for the guests that are there, with a minimum of eight (8).

Q: What if some of the adults just want to skate but are not being "included" in my party package?
A: Others who show up (adults, siblings of invited kids, etc) can always buy their own tickets at the front counter. If you are wanting to pay for extra skaters then please let us know so we can add them accordingly. They will not have a place at the Party Table. All kids in the party area must have a guest wristband.

Q: Can I tip my Party Host?
A: Absolutely! Your party host's sole job is to take care of you and your party guests during the party! If they do a great job of providing a fun experience and make it hassle free for you then feel free to add a gratuity.